SubKick User Manual
If you have any technical issues, please refer to the Frequently Asked Questions.
User Manual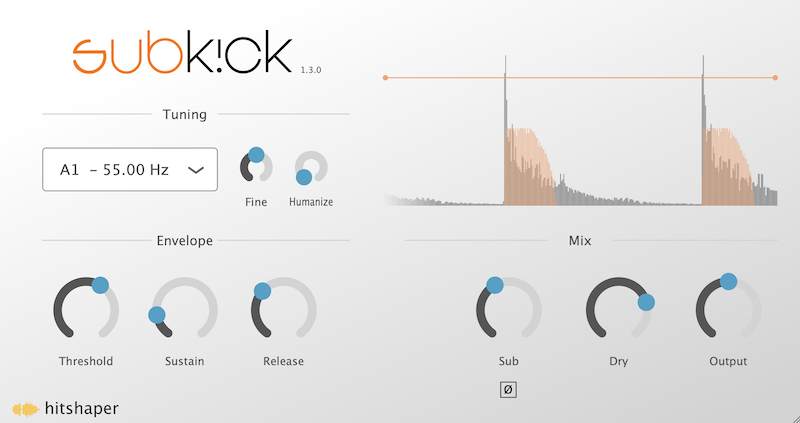 General Workflow
Insert SubKick on a percussion track, in most cases a kick drum.
From the dropdown select the key of the song.
Adjust threshold control or drag down the horizontal orange line in the metering section. The transients should go slightly over to trigger the synthesizer.
Tweak the other parameters to your taste.
Signal
Key & Frequency
Choose from the available key frequencys. It ranges one octave from D#1 (38.89Hz) to D2 (73.42Hz).
Fine
Tune the frequency in cents.
Humanize
At 100% this parameter randomizes the frequency on every hit up to 2Hz. This is a psychoacoustic effect used by some successful mixing engineers to keep the subconscious mind interested. Use lower values to decrease randomization range.
Threshold
Sets the threshold that must be passed by transients to trigger the synthesizer. This parameter can also be set graphically in the metering section.
Sustain
Sets the minimum note length, ranges between 50ms and 500ms.
Release
Sets the ramp-down time of the note, ranges between 20ms and 300ms.
Mix
Sub
Amount of the generated signal. The button below labeled with Ø inverts the polarity of the generated sub-bass.
Dry
Adjusts the output level of the original signal.
Output
Adjusts the output level of the sum.
Metering
The metering helps you finding quickly a good level for the threshold. Just drag the orange horizontal line down until all wanted transients reliably pass the line.
The amplitude of the original signal is drawn in grey, the added sub bass is drawn in orange. Note that a change of the Dry parameter does not affect the level drawn here.
Appendix
System Requirements
Windows 8.1 or later (64bit)
macOS 10.13 or later with Intel or arm64 (M1/M2) processors
DAW with support for Audio Units / VST3 or AAX (ProTools 10.3.5 or later)
SubKick supports sample rates of up to 192kHz.